Thermal Interface Materials
1. Thermal Conductive Grease
Description:


There are a variety of specifications available with low thermal impedance, low overflow, none-drying, and easy operating. This thermal conductive grease can fill the pores between the heat sink and cooler to remove insulating air gaps. It can also improve heat dissipation performance and extend product life. We also provide epoxy compounds for electronic applications for your reference! Contact us to get more detail!



Product Application:


Cooling modules of CPU, MOS, LED, microprocessor, heat sink, graphic card, power relay, and so on.
Introduction of Thermal Conductive Interface Materials:
Exquisite, low-weight, thin, and multi-functionality are the critical tendencies found in the research and development (R&D) of modern electronic products. However, the heat-dissipating efficiency issue may exist in these high-tech products, thereby may cause undesired issues about increases in manufacturing cost and damages in the lifetime of products.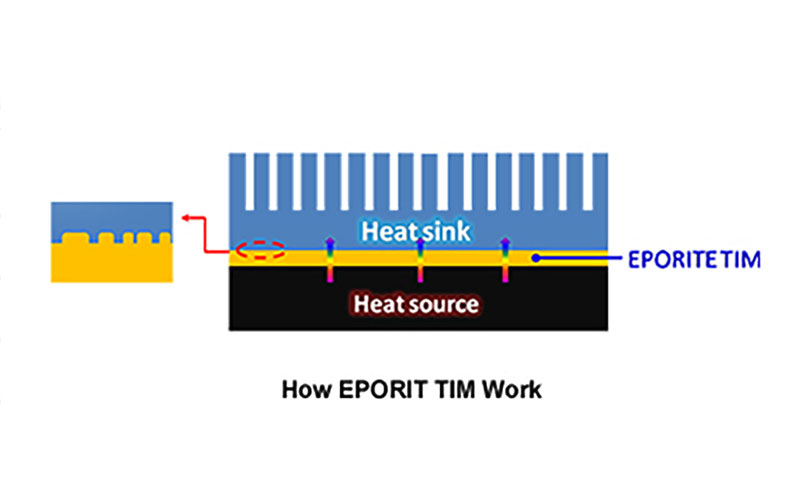 EPORITE series thermal
conductive
grease and thermal adhesive can fill the random pores that exist between the heat sink and cooler . They can increase the area of heat conduction and decrease the thermal resistance to reach high efficiency of heat transfer. Using EPORITE thermal interface material is one of the best options to achieve the cost down and elongate the lifetime of products.
2. Thermal Adhesive
Description:


It is suitable for heat-sink, brass instrument, aluminum and other metals required good thermal conductivity and adhesion.



Product Application:


Cooling modules of IC, CPU, MOS, LED, heat sink, relay, notebook PC, PC, and so on.
Product Sheet
Application
One/ Two Components
Curing Condition
Product Name
Features
TDS Download
Chinese
English
Thermal conductive grease
One
N/A
TIM-0001、TIM-1101

White.

TIM-0001

、

TIM-1101

TIM-0001

、

TIM-1101

One
N/A
TIM-2101

Grey.

TIM-2101

TIM-2101

One
N/A
TIM-3101、TIM-3202

Grey and high thermal conductivity.

TIM-3101

、TIM-3202

TIM-3101

、TIM-3202
Thermal adhesive
One
Heat curing
2070-1

High thermal conductivity.

2070-1

2070-1



*Needing more information please
contact us